How to fill out member registration form
Please read through the following example, and fill out the form correctly.

①Please input your member ID and password
You can not change your member ID once you've register.

Create a unique password that's unrelated to your personal information. For security reasons, it is recommended that you use a password other than those you have already used for other sites.

Both fields are case sensitive.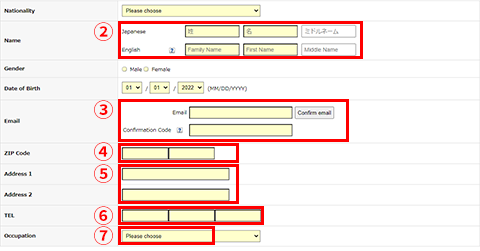 ②Please input your name as shown on your ID
Your name must match with the name on your ID.
③Please confirm your email address.
If you do not provide correct email address, you won't be able to get important information from us.
Please input either PC or mobile email address, and click 'Confirm email'. A mail will be sent to you shortly.
Please fill out the blank with confirmation code included in our mail.
④Please search your address.
Input your ZIP code or part of your address
⑤Please select your address from the search results.
The first part of address will be filled out automatically.
Please input your detailed address in the order of building name, room number, house number(banchi), street name(choumei)
⑥Please input your phone number.
Please input either your home number or your mobile phone number that we can call you at day time.
⑦Please select your main occupation.

⑧Please input a promotion code if you have one.